Wagner PV140 Pumpset Service Gallery
Service Work in Progress ...
Please Review Images Below as I Explain My Service Report from Intake to Completion.
For The Record ... 6-30-15 to 7-8-15
USE Your Browser ZOOM Feature for a Larger IMAGE View!
---
1) Pics 1 to 3a ... Pictures at Intake Prior to Removal of Coupling. (Includes SHORT Bench Test to See & Hear Motor w/Pump Run). Unit Ran in Both Directions, Pump Didn't Sound As It Should Without Fluid (Puttering Both Directions). No Sounds of Metal Clattering, Which is a Good Sign. Noticed 12vdc Electric Motor was Manufactured 2004 (Stamped) & Pump Body is that of the ones Wagner Had up Until They Sold BIZ to Teleflex in 1992. After which Pump Body had some Modifications/Relief Valve Changes (Some Parts Still Interchangeable). All Wagner Electric Motors were Manufactured by another Company Back Then & They Sold Out to Another One in the early 2000's. I Noticed a Strange Coupling Installed. I decided Not to Install Pumpset into My Hydraulic Test Set with Cylinder & Decided to Remove Coupling for Further Inspection.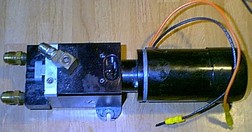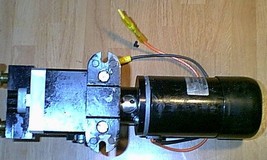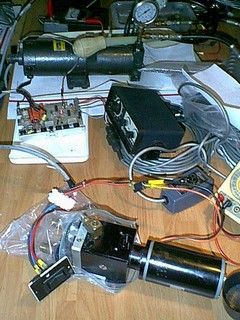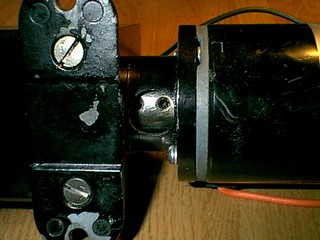 2) Pics 4 to 7 ... Removed Coupling & Noticed its Custom Fabrication was of a One Piece SOLID Design, as I suspected. And, as You can See, was Not Drilled Out Correctly (Allen Screw Holes) These Types of Motor to Pump Applications Must use a Coupling that can handle Motor to Pump Vibration & Movement that is NOT inline with Each Other. Some Single Type Couplings Sold with a Rubber/Flexible Insert Cast/Pressed Inside would Work. Wagner uses the 2 Piece Design with 4 Shear Pins Between Each Couplings. Also, Pump & Motor Each Have Different Size Shaft holes. The Shear Pins are a Safety Feature ... They Break to Protect the Pump/Motor should Either Section Lock Up or Jam.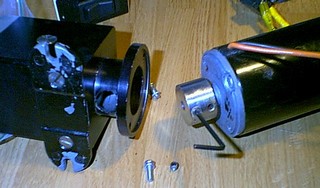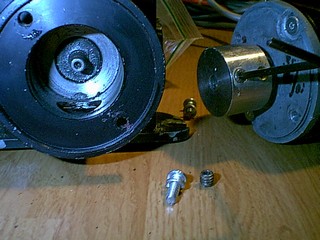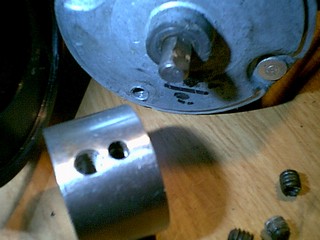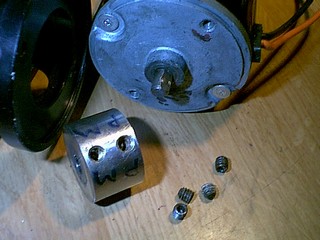 3) Pics 8 to 10 ... Pump Shaft Damage Appears to be from the Wrong Type of Replacement Coupling or its Fabrication. Also Note the Shavings Settled at Bottom of Inside of Coupling Housing (above Pics) which Must be Some of the Remains from Shaft being Cut Down as Pump Seized & Motor Kept Running (I Suspect). You can See Around Inside Housing the Grinding Off of Metal from the Old Broken Original Cast Aluminum Coupling (Normal, Seen Before).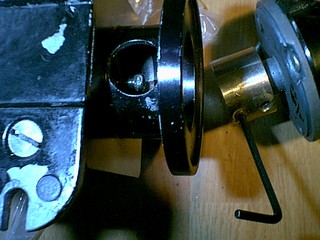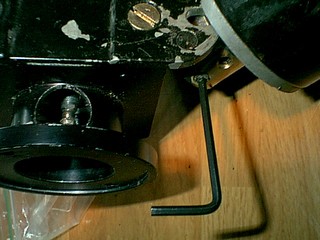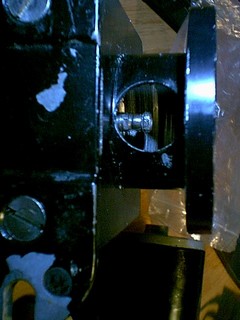 4) Pics 11 to 13 ... Examples of the Damaged Shaft Compared to a Good Shaft from the Same Model and One in a Newer Model PV140. The Electric Motor is so Powerful for Its Size & Draws Up to 20 AMPS even when it is Running in an Every Day Operation IF Rudder should be Driven Hard Over. Again, that's why they use Shear Pins.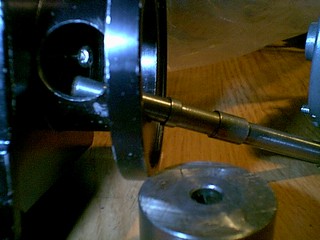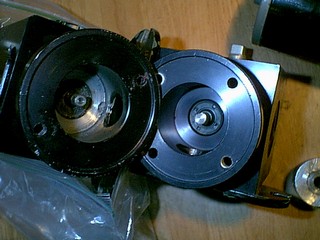 5) Pics 14 to 23 ... Various Views As I Disassembled Pump Body & Electric Motor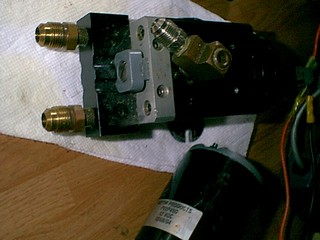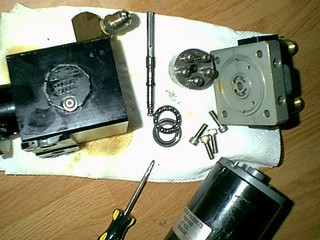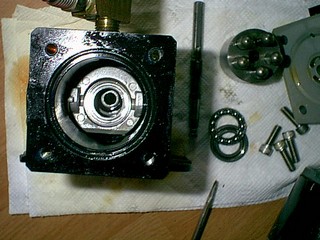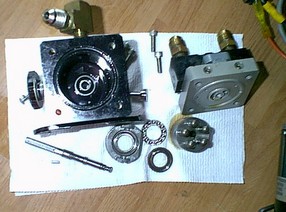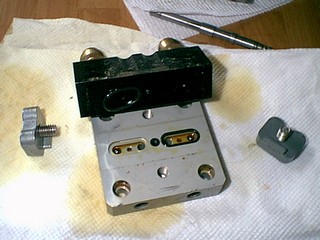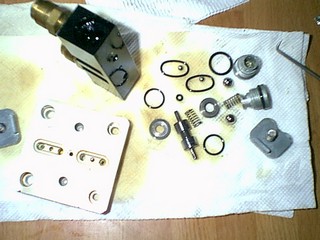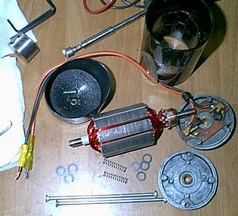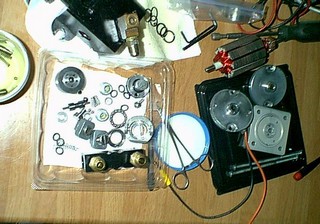 5) Pics 24 to 27 ... Shaft Damage & Repair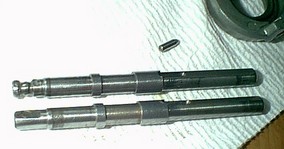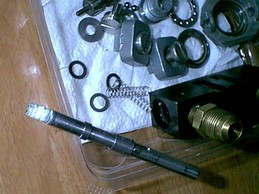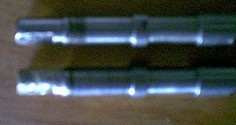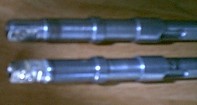 6) Pics 28 & 29 ... Pumpset All Apart, Cleaned Inside & Out & Painted. Parts Ready For Assembly.
I have Removed Hydraulic Fittings For My Own Test Fitting.
NOTE: During Removal of Shaft Seal, as I was Inspecting & Cleaning the Internal Ball Bearing, I Noticed Its Center Ring ,which the Shaft goes through, was Misaligned a Little from Its Normal Position & Bearing was Not Spinning as Freely As It Should, so I Will be Replacing It ... Appears to have been the Area in the Pump that was Hit with the Shock/Load from the Vibration as Shaft was being Damaged (Same Reason as the Electric Motor End Cap Flange Bearing Breaking Loose).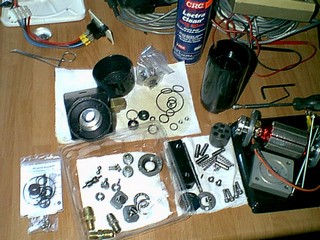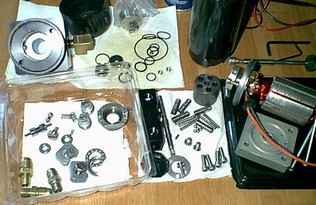 7) Pics 30 & 33 ... Pumpset All Assembled with Electric Motor & Pump Body Attach Together w/New Coupling Set. Then, I Connected to Power & Bench Tested the New Coupling Set for Alignment and So Far No Problems with Repaired Pump Shaft, I'm Sure It will be Fine.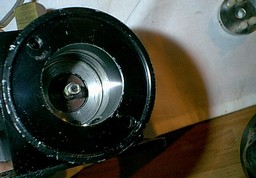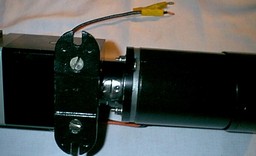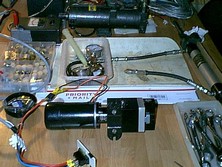 8) Pics 34 to 36 ... I Checked Pumping without My Hydraulic Test System attached by Running Fluid into a Plastic Bag for Internal Clean-out from Assembly. Then I Attached Hydraulics & Pressure Tested for Leaks by Operating Pumpset Port to Starboard at Times over Several Hours to be SURE there would be No Problems during Install from My Rebuild. Also made Minor Relief Valve Adjustments to 550 PSI & Set Flow Rate to 10 Seconds Hard-Over to Hard-Over... this Rate should Help Speed Up Bleeding of Vessel Hydraulic Lines After Install & can be Easily Reset to Satify Any Steering Application (between 8 & 14 Seconds).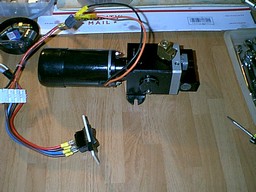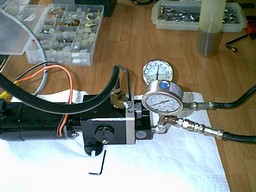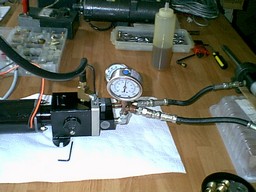 8) Pics 37 to 41 ... Pumpset Rebuild Project NOW Complete, Drained, Original Fittings Installed & READY for Shipping!
Note: The Only Correct Postion of Wrenches for Installing/Removal of Fittings so Not To Damage Pump Body Lockvalve. Shown is Lockvalve Fittings being Installed ... You Must Place Larger Wrench Onto Each Side of Lockvalve to Secure Lockvalve in Place while Turning Fittings. Warning: Never Over Tighten Fitting, Damage Occurs to Internal Shuttle Valve!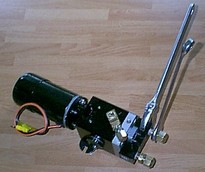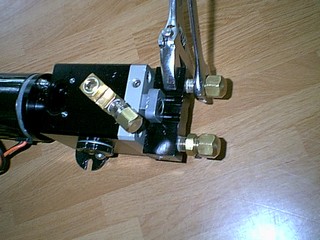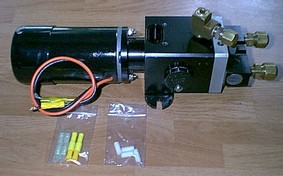 ---
NOTES: To Other Boaters with PV140 Pumpsets Viewing This Page ... You MUST Be VERY Careful:
Damage USUALLY happens while Removing/Installing PV140 Cast Aluminum Couplings & a Complete Replacement Coupling Set MAY be Needed.
... My 'Oncourse Marine' Custom Hard Aluminum 2 Piece Matching Coupling Set (Motor & Pump Sides w/4 Nylon Shear Pins) For $80.00
... 2 Additional Days Needed Before Shipping for OCM Fabrication!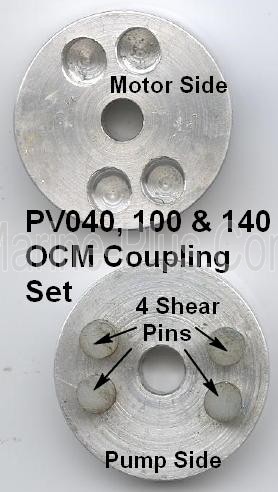 PV Pumpsets are the Same Unit used in Most Wagner Autopilot & Hydraulic Power Steering Applications.
Wagner PV040, PV100, PV140 & PV125 Pump Set SPECS ... Adjustable Flow Rate For Up To 70 Cu. In. Maximum Cylinder Displacement ... 20A (12vdc), 12A (24vdc) or 10A (32vdc) Max Load
---
CLICK This Link : WAGNER Autopilot & Hydraulic Steering SEAL KITS
For ALL TREASURE Questions & WEBSITE HELP ...
International Boaters PLEASE Contact Wayne Hayward via Admiral Log
USA Boaters 'ONLY ' Call or TEXT 754-308-3553 "OR" eMail via Admiral Log
… Please Leave Message for Wayne WITH Detailed Request/Question for Response, THANKS!