Details
Made for Wagner Autopilots by SAURA , Japan.
GREAT For Most Other Manufactures Autopilots that Use A Magnetic Compass Pickup Sensor/Coil. Includes Sensor Mounting Pad & Bolt
The Wagner S50, S70, SE I, SE II or MK4 Autopilots Use the Magnetic Sensor 510-093 ... MP320 & MP640 Autopilots Use Magnetic Sensor 510-388
Wagner Micropilot Autopilot MUST use the Wagner Magnetic Sensor 510-388 with the Splitter Box 510-396 (530-154) as Shown in the Following EXAMPLE PICTURE (Compass Shown is ONLY Item for this Transaction ... Splitter Box & Mag Sensor Available in eStore):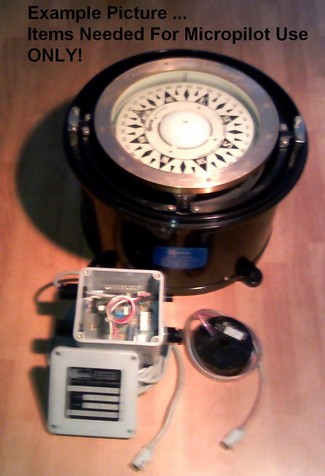 Optional Lighted Binnacle for use when this SAURA Manufactured Compass is being used as a SHIPs Compass is Available but Binnacle is Not Ready for Sale Yet (Used & Green Color so Needs Painted Black to Match)! See Example Picture Above for More Info..
Additional Information
| | |
| --- | --- |
| Name | Wagner 7" Magnetic Flat Card Fluid Filled Gimbaled Compass (Used, Like New Condition) |
| Manufacturer | Wagner |
| SKU | 510-103-MAGNETIC-COMPASS-K2273 |
| Weight | 20.0000 |
| Condition | Used (Like NEW Condition) |
| Shipping Time | Ships 1 BIZ Day After Purchase! |
| Exchange Credit | No |
| Special Price To Date | Dec 31, 2021 |
| Manufacturer's Suggested Retail Price | $1,195.00 |