Details
STANDARD Magnetic Compass Sensor #530-155 / #510-388 (short 3' cable with 7-Pin Plug... For MP Wagner Pilots... MP640, MP320 or Micropilot ONLY, Not for S50, SE II or MK4 Use.)
Use with any Good Quality Owner Supplied 4" to 7" Flat Card Externally Gimbaled Fluid Filled Ship's Compass... Dome-type & Internally Gimbaled, are NOT Suitable!
... Ones Like These ONLY (Example Only, Not For Sale).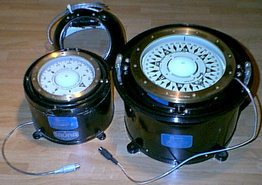 To Use with a Micropilot You Need to Purchase a Wagner Compass Splitter Box 510-396 Like Shown in this NEXT Picture (Example Compass, Sensor & Mag IF BoxOnly, Not For Sale).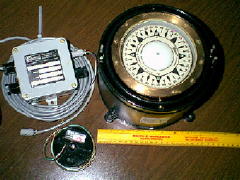 Additional Information
| | |
| --- | --- |
| Name | Wagner STANDARD Magnetic Compass Sensor 510-388 (New) |
| Manufacturer | Wagner |
| SKU | 510-388 |
| Weight | 1.0000 |
| Condition | New (Old Stock) |
| Shipping Time | Ships 1 BIZ Day After Purchase! |
| Exchange Credit | No |
| Special Price To Date | Jun 30, 2023 |
| Manufacturer's Suggested Retail Price | $250.00 |